---
Episode #10

Make Up and Hair for Acting and Modeling
Do you watch TV and films and wonder how the actors always manage to look so beautiful even while they are scrubbing floors or riding horses in the rain? How do those models always look so flawless?
One of the answers is that they have hair and make-up artists on the set constantly making sure they are picture perfect. This show is about what hair and make-up professionals do in our industry and what actors and models need to know about being "camera-ready" for jobs and auditions. Maybe this is something you would want to do or maybe, like me you'd like to have these two ladies follow me throughout the day becaue when they are around, you can look BEAUTIFUL all the time.
Meet two top make-up and hair artists for the entertainment industry, Rose Hill and Denise Johnson.
Rose Hill is an award winning make-up artist and hair stylist who's bio reads like a who's who of celebrities. It is probably easier to name the people she has not coiffed. but some of the stars she has attended to include President Clinton, Bill Gates, George Lucas, Clint Eastwood, John Travolta, Dustin Hoffman, Connie Stevens, Oliver North, Danny Glover, Jim Carey, and Linda Evans. Her expertise is in commercial, corporate, fashion, film, and television mediums. She also is the owner and director of the Academy of Cosmetic Arts and with Denise Johnson, works on this series as a make-up/hair artist.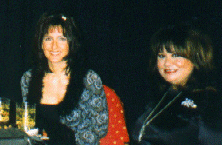 Denise Johnson and Rose Hill
Denise Johnson is an internationally recognized makeup and hair designer for celebrities, film, television, fashion and photography. She has executed extensive magazine layouts and has worked with ESPN, NFL Primestar, Time-Life Music, Swimwear Illustrated as well as being one of the key make-up artists and hair stylists on my national TV series, Starstyle?? Live Your Dreams, currently working as the make-up artist on this show. She teaches hair and make-up classes throughout California and Hawaii and also operates a full service hair and skin care salon.
---
Home | Order Video

For information, contact cynthia@star-style.com
©1999 Starstyle Productions, LLC, All Rights Reserved
Last Updated March 16, 1999